M
icromax Canvas HD is the most hyped smartphone in India in 2013. Coming from using Apple iPhone, I never wanted to try an Indian brand. But because of all this hype, I just went out there and bought it. This phone have changed my view about the Indian company Micromax which used to have an impression of providing cheap mobile phones.
Build Quality
The phone looks very sexy and Micromax have done a good job on this. When Canvas HD was first launched on 14 Feb, it had a glossy finish on the back. I've bought this phone in April (new stock) and it have a matte finish on the back, which looks and feels much better. It provides good grip and is more resistant to dirt/stains/smudges. The camera is a little beveled outside. Overall, it the build quality is better than expected.
Screen Quality / Resolution
Micromax Canvas HD A116 comes with 5" HD IPS display. The screen looks very vivid and alive. The viewing angles are good also. The 720p equipped device beats almost all other Indian quad core smartphones (such as Xolo Q800 or Karbonn Titanium S5), furthermore no MNC branded smartphone have an HD display with 5" screen in this price range.
Don't get overexcited, this comes with a drawback. The HD IPS display drains the battery very much when comparing to Samsung's Super AMOLED display. The battery backup could be better, but if you don't play games and watch movies all the time, it should be okay. The HD display makes it very pleasurable to watch HD movies and play HD games on the Micromax Canvas HD A116.
Camera
The stone-age is gone, megapixels are not a magic number. If you are a tech freak, you may know this but most people in India still believe more megapixels = better camera = better images. That's flat out wrong. What matters the most is the size of the lens, the aperture and the sensor which the camera uses. Micromax have not told the press about anything related to which sensor they are using. But the 8 MP camera of Canvas HD is not good as it should be. Grand's camera is better. Shooting in low-light is a nightmare and the camera engine used by Micromax a little over saturates the image. Sometimes the camera overexposes the images. But if you have a separate camera or SLR and you carry that you shoot photos, this shouldn't be a matter. Manual touch focus is a plus point and the camera is better than the one used in Canvas 2.
Hardware
This is the part where Micromax Canvas HD A116 is making the news all over Indian newspapers, magazines and TV Channels. It have a quad core A7 Mediatek MT 6589 processor. This chipset is very capable but cannot be compared to S4, Grand or Xperia Z's processor. A dual core A9 processor is almost equivalent to A7 quad core processor. You can see the full specifications in the bottom of this article.
Gaming
is a breeze on this smartphone, I've played quite many games on it and have not experienced any issues rather than not being able to install big HD games because of low internal memory. You cannot install apps on the external memory but this can be solved by rooting the phone (however it will void the warranty).
Conclusion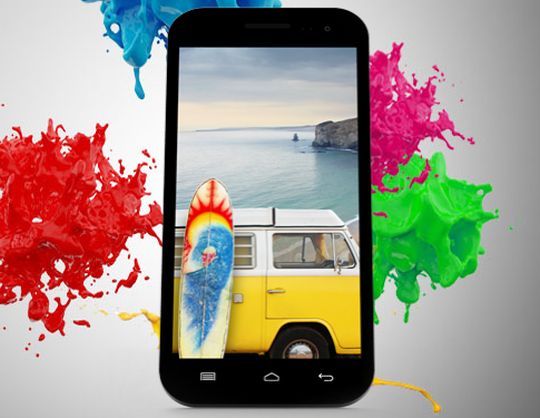 This phone is probably the best one you can get in the 25K price range (yes, even better than Galaxy Grand). But, if you care very much about brand reputation and showing off then this is not the phone for you as Micromax is still considered "china phone" in India by some people. I believe that it will soon compete with the reputation of MNC's like Samsung (it is already competing in the sales, the launch of Canvas HD was followed by the launch of middle range smartphone Galaxy Grand by Samsung.).
A few things Micromax needs to work on
1.
Better after-sale customer service (this is the only and the most important part Micromax lags in): The after-sale service of Micromax flat out sucks. I'm sure you've read some nightmares about it on the internet.
2.
Updates: Micromax is improving on this one, the Canvas HD got a Jelly Bean update. I wish Micromax to release timely updates for all of its premium devies.
3.
Making a high-value name for itself: When I started carrying this device along with owning an iPhone, people looked at me like I'm an alien or something. Micromax should work on increasing the brand value, and making a name for itself in abroad also making it an MNC. Micromax is working on it. Yesterday, I was watching the MTV Video Music Awards and Honey Singh (probably the most popular singer right now in India) displayed his Micromax Canvas HD A116 on stage. Micromax should also work on making better, professional looking TV commercials - the Canvas HD commercial doesn't make sense, it should be more about the phone and less about "colors coming alive" like Galaxy Grand's commercial.
4.
Ear-phones: Why? why so cheap and old-fashioned earphones with a premium and flagship device? Micromax should wake up from stone-age and upgrade it to a 21st century earphone.